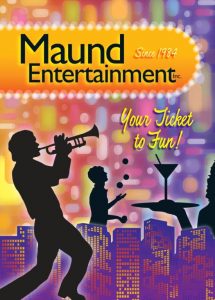 Maund Entertainment, Inc. has the professional experience necessary in providing the right kind of entertainment to enhance your special event.Why do we stand out from the rest?
New and or small inexperienced companies make many claims of what they can do, but don't be fooled! As the #1 entertainment company in the Twin Cities we have seen many of them "here today gone tomorrow"! We are an established company with a reputation to prove it. We are trusted, reliable and provide the utmost professional performers, with a long list of satisfied clients that have repeatedly year after year used our services.
We are the only Company that has been trusted to provide face painting at all the home games for the Minnesota Twins since 1992. We are the only Company that has been trusted to provide face painting at Nickelodeon Universe Amusement Park (previously known as Camp Snoopy) at the Mall of America since 1992. The Minnesota Vikings since 1995, the Minnesota Wild since 2000, the St. Paul Saints and the list goes on and on.
Whether it is a Band, a DJ, a Face Painter, a Caricature Artist , Air Brush Tattoo Artist, a Magician, Crazy Hairdo Stylist, Juggler or what ever family type entertainment you need for your event we will provide the best! Any size of event, Company Picnic or corporate event it will be professionally handled according to our clients needs.
Customer Service and professional quality of work are our #1 priority! If you are looking for a type of family entertainment that we do not provide or do not have available for the date of your event we will do our best to recommend another qualified professional.
Our Rates – Call or email for a quote of our rates. If you know what your budget is let us know and we will do everything we can to give you the most entertainment for the dollar.