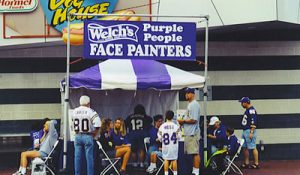 Add face painting to your special event. Our creative face painters are available for promotional events and celebrations of all kinds. We are the exclusive face painters for: Nickelodeon Universe Amusement Park (formerly Camp Snoopy), Minnesota Twins, Minnesota Wild, Minnesota Vikings and the St. Paul Saints. We offer the best professional painters that pay attention to detail. We can customize designs to match the theme for any event.
Paint Quality – Only the finest, high quality hypoallergenic paints are used in a variety of shades to accommodate the various natural skin tones-A theatrical makeup that is water based and washes off with soap and water. This quality paint has bright and vivid colors that dries without smearing and lasts all day. An ultra fine polyester glitter is applied to the design to add that special touch!
Facts about our face painting –
All of our designs are created and painted freehand we never use stencils-
We customize our design boards to fit your special occasion whether it is a themed event, corporate picnic, or a large event with thousands of people attending. We have over 2000 creatively customized designs on file to choose from. We can even create a customized design or logo to fit your event if needed. The paint is applied with a paintbrush, then carefully outlined with a fine liner brush to accentuate the detail involved in the design.
The time involved in each painting depends upon the detail of the design, which can vary from a simple shape maybe for a very young child that obviously can not sit still for more than 1-2minutes, to an intricate princess on a young girl that may take 3-4 minutes. Whether it's an elaborate full-face design or a simple cheek design, we do it all.
We have the patience and experience necessary to deal with adults and children of all ages, even the wiggly ones!
For larger outdoor events we can have 10×10 EZup tents with banners to provide shade and comfort for a small additional fee.
Guarantee
We use only KRYOLAN paints!
More than just a company name. A brand. A trademark. For professional make-up preparations.
These products are at home on the stages of the world, in film and TV studios, and on the catwalk. Make-up designers and actors have learned to trust the high quality and the great diversity of Kryolan specialities.
In addition to an extensive number and variety of make-up preparations, these specialities also include practice-oriented special effects.
Kryolan has paid special attention, however, to their camouflage programmes Dermacolor and Dermacolor Light. They have helped a great number of people who must live with skin anomalies and colour deviations. In over 63 years, a rich and unique assortment of articles has been developed: a portfolio that is continuously upgraded by satisfaction of our clients' wishes and by adaptation to new technologies.
In this way, new high-definition media technology proved to be the initiator of the most recent and successful Kryolan High Definition range: one that leads to adventures in the world of make-up.
And with its Private Care Cosmetic Collection, Kryolan has fulfilled customer wishes for a new line of individual care products.
In all these cases, now as before, Kryolan has directed prime importance to assuring excellent skin compatibility of each and every one of its products. In their development work, Kryolan chemists pay unceasing attention to the high safety standards of the formulation. They know full well that the skin of actors and actresses, one of their most precious assets, must without difficulty be able to tolerate Kryolan preparations on a daily, long-term basis. Together with the Kryolan microbiologist, company chemists carefully monitor the manufacture of each product, and guarantee in this way the high quality and purity of each production batch.
And to be double safe, Kryolan preparations are intensively tested on a clinical basis. With successful results. To take only one example – the product Aquacolor – a Berlin University Medical Centre has reached the following assessment: "In tolerance testing, we determined outstanding skin compatibility. From the dermatological and allergological standpoints, nothing speaks against extensive application of the product."
Kryolan, however, has always refused to test its products on animals. No Kryolan product has ever been tested on an animal.